All Postings from June 2004
6/30/04
CSPAN rerunning for fourth time my conference on voting
At 5:50 EDT today CSPAN3 will rerun the conference that took place on 6/21 (see below).
6/30/04
Exploding the Fireworks Safety 'Threat'
My latest piece with Ruth Smith is out in The Los Angeles Times: "This issue is badly distorted by the media. A search of the top 100 newspapers found 140 news stories in the last year warning that fireworks could be deadly if used improperly. But, despite this edge to the coverage, on average just six people a year died in fireworks-related incidents from 1990 to 2002. And many of those deaths occurred at professional fireworks displays."
6/29/04
Add Gun Control To Litany Of Misbegotten Gov't Plans
My latest piece is out in Investor's Business Daily: "Repealing gun control laws might not solve the crime problems in the U.K. and Australia overnight, but the exploding crime rates (including gun crime) in countries that have banned guns shows that we can add gun control to the list of government planning efforts that do not live up to their billing. Its failures have become too overwhelming to ignore."
6/28/04
Female clerk defends herself from robbers
"After the clerk handed over about $200 in cash, the chief said, the robber threatened to kill her anyway. That's when the clerk pulled out her own handgun. The robber ran out of the store . . ."
6/25/04
More Lott, Less Moore
For an amusing op-ed by Mike Adams see here.
6/24/04
Saudi Arabia adopts concealed carry for foreigners
Faced with terrorists threatening foreigners, the Saudi government has adopted concealed carry laws for foreigners.
6/24/04
Three concealed permit holders in Minnesota capture young murderer
The Star Tribune is getting a little better, but still misses out on the fact that the three men who caught this person had concealed handgun permits.
6/23/04
Review of John Micklethwait and Adrian Wooldridge's new book, "The Right Nation."
Tech Central Station has my review of John Micklethwait and Adrian Wooldridge's new book, "The Right Nation."
6/22/04
Canada's Murder Rate Over the Last Six Years
Canadian long gun and shot gun registration was started in December 1998 and the guns were supposed to be registered by January 2001, though there was an extension until July 2001. Crime rates continued falling during the first full year of the program but rose consistent every year thereafter and in the lastest numbers for 2002 ended up higher than the last year prior to the law (1998).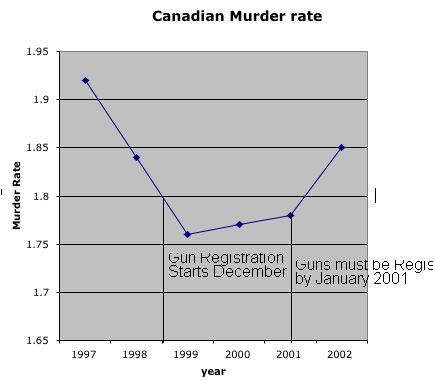 Maxim Lott brought the debate over these numbers to my attention.
6/22/04
On Tuesday CSPAN3 will replay the first panel debating on 2000 Florida vote from my conference yesterday
AEI had an interesting conference that I set up on Monday to discuss: Preventing Another Florida?: Will the Changes Make Things Better? CSPAN3 will be showing this on Tuesday starting at 6:52 PM and it goes until almost 9 PM.
6/22/04
The Public's Response to Michael Moore's Sources?
(This was provided to me by Dan Gifford.)
David Letterman: How do we know what's in your film [Fahrenheit 9/11] is true?
Michael Moore: Because I got most of my information from The New York Times.
Audience: Wild laughter.
Letterman: [Strains to repress laughing]
Moore: What's so funny?
Late Show with David Letterman
June 18, 2004
Correction: It appears that the text of this is somewhat different than I was first told:
Letterman: And, and we can absolutely believe the sources you've used in assembling your documentary?
Moore: Oh yeah, it's New York Times, it's the Wall Street Journal, it's, it's, uh --
Letterman: Well, the Times [starts laughing, audience laughs, Michael Moore laughs] - depending on what day it is....
6/19/04
On Monday CSPAN1 will be showing debate on 2000 Florida vote and its aftermath
AEI is having an interesting conference that I set up on Monday to discuss: Preventing Another Florida?: Will the Changes Make Things Better? CSPAN1 will be showing this live starting at 10:15 AM and it goes until 2:45 PM, though I think that they will replay it at least once. The presentations should contain some interesting debates.
6/19/04
Shooting for sport is one of the fastest growning sports in the US
Foxnews.com has an interesting story on the increased interest in the shooting sports. In the accompanying video, William La Jeunesse notes that: "Gun sports grew 25 percent last year."
6/18/04
The hysteria over fireworks
Since 1990, there are on average about 6.7 fireworks deaths a year in the US.
6/18/04
More concern about gun laws in Canada
The National Post prints a letter from Professor Gary Mauser at Simon Fraser University that strongly supports my op-ed from the 15th. While talking about the failure of gun control laws in Australia, Britain and Canada, he notes that:
Anyone living in a big Canadian city has witnessed the horrifying increase in violent crime over the past decade. Canada's violent crime rate is now higher than in the United States.
6/18/04
Two interesting posts on the Sadam Terrorism link
Putin Says Russia Warned U.S. on Saddam planning "terrorist attacks" on US soil
al Qaeda operatives ties to Iran and Iraq
6/15/04
Two-thirds of Police Chiefs think Right-to-carry Laws Reduce Crime
A new survey by the National Association of Chiefs of Police asks its members: "Do you agree that a national concealed handgun permit would reduce rates of violent crime as recent studies in some states have already reflected?" 65.7 percent of members say "Yes". There are other interesting questions in the survey. Two-thirds oppose one-gun-a-month rules. Over half think that the rules allowing pilots to carry concealed handguns are too restrictive.
6/15/04
Comments on Canadian Gun Control Debate
I have a piece in today's National Post (Canada):
"So, if [gun control in Canada] hasn't worked, what's the solution? The NDP, which polls indicate may hold the balance of power in Parliament after June 28, has proposed a radical solution: 'going across the border to the U.S. and actively engaging in lobbying to have gun -control laws in the U.S. strengthened.' This is part of an ironic pattern: When gun control laws fail -- as they consistently do, whether in Canada, the United States or other countries -- politicians seek to pass new laws rather than eliminate the old ones. In the United States, gun -control groups now claim that the 1994 Brady Act implementing background checks and assault-weapon bans failed to reduce crime only because they didn't go far enough; and that city bans on handguns in Chicago and Washington, D.C., failed only because other jurisdictions didn't follow suit."
6/13/04
Are Government Regulations too Complicated for Ralph Nader?
Here is a nice irony. Ralph Nader may be in serious violations of campaign finance laws:
"Since October, Ralph Nader has run his campaign for president out of the same downtown Washington offices that through April housed a public charity he created -- an overlap that campaign finance specialists said could run afoul of federal laws. Tax law explicitly forbids public charities from aiding political campaigns. Violations can result in a charity losing its tax-exempt status. In addition, campaign law requires candidates to account for all contributions -- including shared office space and resources, down to the use of copying machines, receptionists and telephones."
6/11/04
In case you missed it, Reagan's Funeral well worth watching
If you get a chance to watch the funeral when it replays on CSPAN, it was a quite emotional experience. On another point, Jane Wyman, Reagan's first wife from whom he was divorced in 1948, has finally broken her decades long silence on him:
6/11/04
"Signs reading 'no guns allowed' are coming down in some Ohio stores and restaurants."
As has been so typical in other states, "no guns allowed" signs quickly go up after right-to-carry laws are passed only to have them come down a short time later. CNSNews has a good article on the changes:
"Ohioans for Concealed Carry said it is pleased to announce that two national chains -- Southwest Ohio Kroger stores and Perkins Family Restaurants -- have "begun removing discriminatory signs banning concealed handgun license-holders from their stores." So far, at least nine national chains and nearly 50 other businesses have removed their signs and opened their doors to Ohio concealed handgun license-holders, the group said."
6/11/04
Is Rhode Island Actually a Shall Issue State
I have always assumed that Rhode Island was a may issue state, but one of the lawyers involved in a just decided case before the Rhode Island Supreme Court thinks that may be wrong: