Happy Birthday America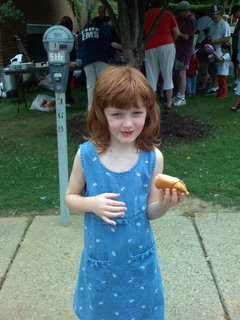 I got to spend a little time with a couple of my kids today. Here is a picture of my youngest, Dagny, eating a hot dog.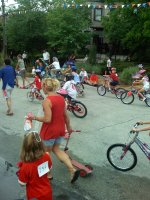 More from the local July 4th parade where my kids live.
By the way, the pictures were taken with my new
iPhone
. This cell phone is amazing. It is a really amazing computer. You get real email and web browsing. The integration with the address book is fantastic. The telephone is crystal clear. It is better than some land lines that I have used recently. Everything from being able to look at maps for traveling to getting local weather at the push of a single button is great. As far as the Edge network goes, I think that it is plenty fast enough for email and getting most data. The one place where it is slow is the web browser, but getting emails is much more important to me. I had to settle for a 4 GB version because I just couldn't find the 8 GB in stock, but I am still happy with the memory for the 4 GB version.